What a new Shooter needs:
Easy answer to that question is: NOTHING other than some glasses and hearing protection. Contact us and let us know you're interested and we'll find enough "stuff" to outfit you for your first shoot. AFTER shooting, you can then decide on what to buy. This process will also prevent you from wasting a lot of money buying things you really don't want or need.
There's an excellent and QUITE detailed explanation of hardware at the following site:
http://www.curtrich.com/GettingStarted01.html
If you're interested in shooting, contact anyone on the Town Council and then follow the map below for a load of fun. Don't worry about not knowing anything, we were all new to this sport at one time too.
More information will be posted here later. In the meantime, you can search the web for all sorts of info on SASS shooting.
Directions to the range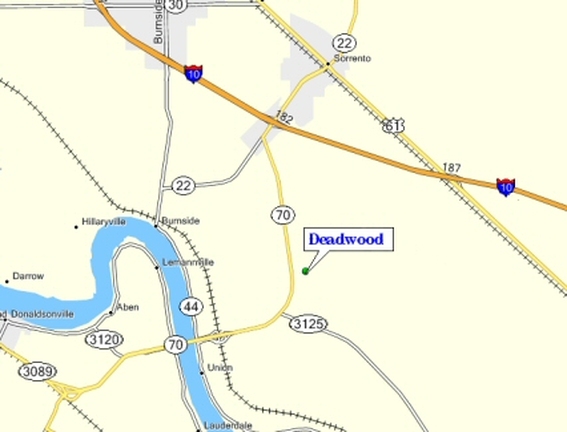 30.12215N, 90.86896W
From either Baton Rouge or New Orleans on I-10, exit 182 (Sorrento/Sunshine Bridge/Hwy 22). Go South on Hwy 22 for approximately 1/4 mile to the caution light. Turn left at the light onto Hwy 70.
Proceed 3 miles on Hwy 70. Start slowing down when you see the overhead power lines crossing the highway. There is a clearing on the left with Louisiana Treated Lumber and an old house. Turn left, drive past the house, through the gate to the range. (If you pass under the power lines, you have gone too far.)
---